Investor Relations
Webcast


Pulse Biosciences Q4 2017 Earnings Call

 (Replay)




03/16/18

 at 1:30 p.m. PT
Corporate Profile
Pulse Biosciences, Inc. is a medical technologies company developing commercial clinical applications for its proprietary Nano-Pulse Stimulation ("NPS") technology. NPS is a novel patented technology leveraging nano-second duration energy pulses that have demonstrated effective local tumor control and the initiation of an adaptive immune response in pre-clinical studies. Pulse Biosciences is pursuing a number of clinical applications for NPS, including human oncology, dermatology, aesthetics and other minimally invasive applications where NPS is believed to provide greater benefits compared to current therapies and treatments.
Stock Quote
PLSE (Common Stock)
$14.52
 - 0.61
 (4.03%)
Data provided by Nasdaq. Minimum 15 minutes delayed.
Stock Chart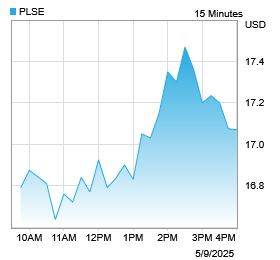 Upcoming Events
There are currently no events scheduled.